Plenary session
Plenary lecture "Communicating science and tech in a clearer way – some professional advice" will be given by Olle Bergman
Olle Bergman regularly speaks to groups at companies, universities and conferences on a variety of communication topics. As a knowledge worker, he gets energised by the force field between the traditional and the brand-new. Or to quote the Swedish poet Gunnar Ekelöf: "The established is good. / The opposition against the established is good." The most know presentation are:
General communication for science & tech people - Olle Bergman is a firm believer that there are principles, strategies and tools of communication which are universal. In his eyes, the Greek and the Romans already nailed it 2000 years ago when they developed the art of rhetoric. Therefore, anyone who wants to be an effective communicator in one domain, e.g. science and technology, can learn a lot from other fields - especially those which are specialised in the communication process per se, e.g. journalism, PR and advertising.
The Elevator Pitch – "Sometimes we get a golden opportunity to present our dreams, visions or plans to a significant person. But we all know how hard it can be to summarize a complex story in a concise, structured and convincing way. That is why we should create and memorize an elevator pitch. Olle Bergman has worked with communication for 20 years and he is ready to [ONE!] tell us how to do it and [TWO!] show us some inspiring examples."
LinkedIn & Twitter for Science & Tech People – if we are Not sure what to make of LinkedIn and Twitter in our work as a scientist or R&D engineer? If we Want some solid pieces of advice on how to get started and how to use it wisely? In this seminar Olle Bergman is giving an overview and shows some hands-on demonstrations.
Power writing for science communicators - The academic environment still nurtures a somewhat constrained and conservative communication culture. As an engineer turned professional writer and public speaker, Olle Bergman wants to point out how methods, knowledge and experience from other domains can be applied to scientific communication and science dissemination. In this seminar, he focuses on writing skills - especially how to write short and quick pieces for the web.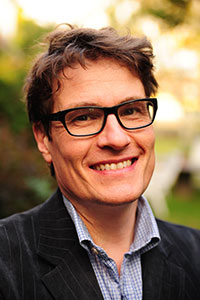 Olle Bergman, M.Sc. Chem. Eng., has a background in science, corporate communications and advertising. As a communications consultant and lecturer, he helps science & tech people reach their goals with clear, effective communication, writing and presentations. Today, he works for organisations like The Swedish Cancer Society, Scania and Karolinska Institutet. In addition, he is the project leader of Crastina, a platform for the exchange of experience, knowledge and inspiration regarding both scientific peer-to-peer communication and science dissemination.